Patio Umbrellas and Outdoor Umbrellas
Selecting your Umbrella Fabric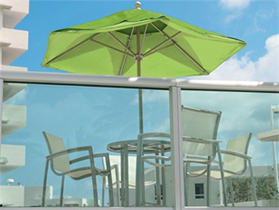 Umbrella fabrics offered by the top-line manufacturers are known for their quality features and durability. Fabrics are available in different grades and the price of the fabric is determined by that grade. In general, fabrics are graded based on the cost of producing the fabrics. Manufacturing processes such as weaving and the variety of yarn used are factors which comprise the wholesale cost of the fabric. Each manufacturer determines its own grading standards and the grades will vary from manufacturer to manufacturer.
Sunbrella Umbrellas
When our customers request Sunbrella Umbrellas, they are specifying an umbrella canopy made with Sunbrella fabric made by Glen Raven. Sunbrella fabrics are used on awnings, in marine environments, on casual furniture and on umbrellas and Sunbrella fabrics lead the industry in superior performance with their broad range of styles and extensive colors. Glen Raven began producing awnings from woven cotton fabric in the late 1800s, but is best known today for the leading edge products they produce for consumers and designers worldwide.
Detailed information on umbrella fabrics offered.
Sunbrella
100% acrylic, solution-dyed fabric
Fade-proof fabrics with locked-in colors that stay beautiful for many years
Wind and rain resistant
Water-repellant fabric finish incorporated into the fabric finishing process
Resistant to mold and mildew
Up to 98% UV sun protection which has been tested and proven
A Up to 98% UV sun protection which has been tested and proven
Ideal for everyday and heavy use
Olefin
Olefin fabrics are a quality fabric choice for customers who are looking for a shade solution on a budget. Synthetic Olefin fibers are known for high durability and excellent value. They are designed to be more fade-resistant than lower grade fabrics such as polyester and cotton and less expensive than higher grade acrylic canvas. Years of worry-free enjoyment make Olefin a strong value and the fabric only requires the most basic care. Olefin has a wide range of popular colors and patterns to make your outdoor space beautiful without exceeding your budget.
Olefin fabric is 8 oz. solution-dyed
High-density and light-weight woven fabric
Fade-resistant and maintains bright colors well
Highly durable, cleans up easily
Resistant to stains and abrasions
Warranted for one year against fading
Pacifica, by California Umbrella
Pacifica is a polyester fabric that is solution-dyed and made by California Umbrella. This is a performance shade fabric solution and offers endless options for color statements for your outdoor entertaining areas.
Warranted for 4 years of fade-resistance
Warranted for 4 years of rot and mildew resistance
20 popular fashion color choices to choose from
11 foot umbrellas available in double wind vents
9 foot umbrellas available in single wind vents
Quickest lead time among umbrella manufacturers
Choosing Umbrella Size
When determining the size of the shade, it is important to know the size of the area or table you want to shade. A free-standing umbrella should be approximately 5 feet larger than the largest side of the area to be shaded. These are the guidelines for shading your table area:
Umbrella Shade (In Feet)
Table Size (In Inches)
# of Chairs
6' Umbrella Shade
30" cafe or bistro
2
7' Umbrella Shade
36" cafe or bistro
2 - 4
9' Umbrella Shade
48" round or square
4 - 6
11' Umbrella Shade
60" Round or Square and 72"
Oval and Rectangular
6 - 8
Umbrella Base Sizing
Generally to determine the weight of an umbrella base, a shade diameter of 7.5' and under should have a base weight of 25-50 lbs. and for shade diameters more than 8', a base weight of 50-75 lbs. is recommended. For quick reference, here is a basic umbrella base sizing guide:
| | | |
| --- | --- | --- |
| Umbrella Shade Size (ft) | Umbrella Positioning | Base Weight Options (lbs) |
| 4.5 | Thru Table | 30 |
| 4.5 | Free Standing | 40 |
| 6 | Thru Table | 30 |
| 6 | Free Standing | 50 |
| 7.5 | Thru Table | 30 |
| 7.5 | Free Standing | 50 |
| 8 or 8 x 10 | Thru Table | 50 |
| 8 or 8 x 10 | Free Standing | 75 |
| 9 | Thru Table | 50 |
| 9 | Free Standing | 75 |
| 6.5 x 10 | Thru Table | 50 |
| 6.5 x 10 | Free Standing | 75 |
| 11 | Thru Table | 50 |
| 11 | Free Standing | 75 |

Patio Umbrella Frames
The typical patio umbrella frame is manufacturer from wood, fiberglass or metals such as aluminum or steel. Wood frames are frequently seen on market umbrellas and offer a natural look to your traditional outdoor setting. Fiberglass and metal frames are usually available with more features than wood and their versatility makes them ideal to coordinate with a variety of outdoor décor styles. If your umbrella will experience heavy use in a high-traffic area such as commercial patio umbrellas, then we strongly suggest that you select an umbrella with the fewest moving parts. Choose an umbrella with a single pole instead of two pole sections. A manual or pulley-lift system will hold up best with constant use and also look for umbrellas with strong couplings used with wood, aluminum or fiberglass umbrella frames.
Wood patio umbrellas
Poles and frames are made from teak, ash or other hardwoods which are naturally resistant to moisture and insects
Pole diameters measure 1.375" to 2" in diameter
Center poles come in one or two pieces
Manual or pulley with pin lift systems are typical
Not usually available with tilt option
Sturdy rib construction but wood ribs aren't flexible in windy conditions
Replaceable ribs if broken
Fiberglass patio umbrellas
Sturdy yet lightweight frames, stronger than aluminum or wood
Limited finishes compared with aluminum and wood
Available in solid, one-piece poles or two piece pole models
Fiberglass ribs are the best option for gusty wind conditions
Longevity: fiberglass ribs last 4 to 5 times longer than wood or aluminum
Aluminum patio umbrellas
Available in either one or two piece poles
Most options for opening and closing: crank, manual lift, pulley, quick lift or remote control
Options for tilting: push-button, non-tilting, automatic tilting and full rotation (offset umbrellas)
Widest selection of finishes for frames and poles
Pole finishes can be powder-coated, anodized or laminated for weather-resistance
Commercial and heavy-use residential locations should stay away from crank and tilting functions
Patio Umbrella Frame Components
A patio umbrella is manufactured with a frame which comprises its structure. The frame is made up of the pole, the ribs and the finial. It also has several mechanisms which allow it to operate smoothly. These include the lift mechanism, the tilt mechanism, the hubs, and a rotating mechanism in the case of offset umbrellas. To understand how the frame and mechanisms work together, we've included some basic information about each of these system components:


Crank
A crank is a handle which, when turned in a clockwise and counter-clockwise motion, opens and closes a patio umbrella. On some umbrellas, the crank also allows the umbrella to tilt to varying degrees to provide directional shade. We do not recommend cranks for umbrellas in commercial use.


Pulley and Push Up
Primarily found on wood umbrellas, the pulley and push up are manual methods of opening a patio umbrella. The pulley method uses a rope to assist in raising the umbrella hub with a system of pulleys. The push up method operates similar to a personal umbrella; you simply grasp the hub of the umbrella and manually guide it up the pole to the desired height. Both of these methods utilize a pin which is inserted through pre-drilled holes in the umbrella pole just under the hub which keeps the umbrella open. The push up umbrella is our only recommendation for commercial umbrella applications. Pulley and crank umbrellas pose a constant safety hazard to patrons and damage to the umbrella itself.


Hub
There are two hubs in most patio umbrellas. The first moves up and down the umbrella pole and is called the runner hub. The support ribs of the umbrella are fastened to the runner hub and facilitate opening and closing the umbrella. There is a top hub to which an umbrella's main ribs are attached. This top hub does not move while the main ribs rise and fall as the umbrella is opened and closed.


Finial
A patio umbrella finial performs two functions. It helps anchor the umbrella canopy to the frame of the umbrella. Finials are also a design element which completes the finished look for the top of the umbrella.


Pole
You will find umbrella poles in wood, aluminum, fiberglass, steel, plastic or made of composite materials such as resins. Umbrella poles can be solid or made up of two pieces. In a two piece pole, the pieces are connected together to form the entire pole and this type of umbrella is the easiest to ship and to store. Single piece poles are stronger and more suited to commercial uses such as restaurants, hotels, and condo pool areas because they stand up to strong winds and wind gusts better.


Ribs
There are two kinds of ribs on patio umbrellas. The main ribs outspread from the top hub to the edges of the umbrella canopy. Main rubs are located under the canopy fabric and support the fabric panels. The support ribs are connected to both the runner hub and the main ribs and facilitate the opening and closing motion of the umbrella. The more ribs an umbrella has, the stronger and more stable the umbrella is. The strongest ribs are made from fiberglass which usually last four to five times longer than ribs made from wood or aluminum. Fiberglass ribs are the most wind resistant and most able to withstand strong wind gusts.


Tilt Mechanisms
Residential umbrellas are available with integrated tilting functions which direct shade to your chosen location. Some umbrellas tilt with the push of a button and other umbrellas have this function built into the crank mechanism. Tilt umbrellas are not recommended for commercial applications
Offset Patio Umbrellas and Freestanding Patio Umbrellas
Offset umbrellas are defined as an umbrella with a cantilevered canopy which extends from a weighted slab base and vertical support out over an area to be shaded. They are considered to be a more versatile shade solution because they can be used with dining tables that don't have holes, over a seating area or over a hot tub – really anywhere where a center pole would be an obstruction. They can be tilted and rotated, but do not move around easily because of the size and weight of the base.

The traditional patio umbrella is a freestanding umbrella that has a center pole that supports a symmetrical canopy and is anchored in an umbrella stand. The advantage of a freestanding umbrella over an offset umbrella is that it is more portable. Use a freestanding umbrella with a patio table with umbrella holes. Freestanding umbrellas should always be used with an umbrella stand for saf
ety and security.
Cleaning Your Patio Umbrella Canopy for Spring
Believe it or not, spring is just around the corner and that means preparing your property for the warmer weather. If your patio umbrella has been properly stored away for winter, you'll need to take some measures to get it ready for use once the temps begin to warm up. Let's take a look at the best way to tackle this project and get that umbrella looking like new again. For general cleaning, use the following steps:
1) Open the umbrella and brush off any loose dirt that may be present.
2) Lightly hose off the excess buildup.
3) Create a gentle cleaning solution of water mixed with a mild soap, such as dish washing soap.
4) Apply cleaning solution to the umbrella surface using a soft bristle brush.
5) Allow a few minutes for the solution to absorb into the fabric.

6) Rinse thoroughly until all traces of soap are gone and allow the umbrella to air dry. If your umbrella has a stubborn stain, such as bird droppings or mildew, click here for a list of common stains and instructions on how to clean each for best results. Follow these tips and your patio umbrella will be in tip-top shape come spring!
Patio Umbrella Stain Removal Guide
In most cases, cleaning the fabric of your patio umbrella or canopy can be done with a simple solution of water and mild soap. For tough stains, however, it may take a bit more of an effort. To help you out, we've put together a list of some of the most common stubborn stains and what it will take to get your umbrella or canopy fabric looking good as new again.
Bird Droppings – 1 gallon of water mixed with ¼ cup dish washing soap.
Tree Sap – 100% turpentine, followed by 1 gallon of water mixed with ¼ cup dish washing soap.
Berries – 1 gallon of water mixed with ¼ up dish washing soap and 1 cup ammonia
Ketchup or Mustard – 1 gallon of water mixed with ¼ cup dish washing soap
Beer - 1 gallon of water mixed with ¼ cup dish washing soap and 1/3 cup white vinegar
Soda/Juice/Milk/Tea - 1 gallon of water mixed with ¼ cup dish washing soap
Wine – 1 gallon of water mixed with ¼ cup dish washing soap, 1/3 cup white vinegar and 1 cup
Ink - Paint remover (100%), volatile solvent (acetone) 100%, soap and water
Mildew – 1 gallon of water mixed with ¼ cup dish washing soap and 1 cup bleach
Oil - Volatile solvent (acetone) 100%